A Happy Cat Is a Healthy Cat!
Here Are 10 Tips To Make Sure Your Feline Stays As Happy As Can Be.
There really is nothing better than knowing your cat is living its best life!
Knowing your cat well and knowing what they need to thrive and be the best cat they can be is incredibly rewarding, and you will definitely feel the love and attention that comes with having a happy cat.
So, what things do cats need to be happy and live their lives to the fullest potential?
Let's have a look at ten really great tips for having a happy cat.

1- Cat Medication 
A happy cat is a healthy cat!
You can prevent almost all Feline diseases and medical irritations by making sure that they are:
Fully vaccinated
Regularly treated for worms
Having routine flea treatment
Are checked for tics regularly
Seeing a veterinarian
It's best to understand Feline medical care in the same bracket as children, whereby they cannot obtain care for themselves, so it is down to you as their owner to ensure they are getting everything they need.
2- Keep Fit!
Reserving exercise exclusively for dogs is something that needs to be reassessed!
Cats love to exercise, and it has similar benefits to our furry friends as it does in humans.
Exercise for cats is super important for their:
Mental Health
Weight
Respiratory health
Sleeping habits
Cognitive Function
So while you are out in the garden, make sure your cat accompanies you out there and set up some games for them to play to keep their mind and body in excellent condition, such as playing catch and chasing games with laser lights or feathers on a stick or allow them to explore the wild where possible to instill their instinctive predator habits.

3- Get great toys and treats!
Anyone who knows cats knows they absolutely love to play with toys and love a good treat.
It's important to keep a curious kitty's mind occupied by giving them toys that engage them. Further, a good snack is something they will never turn down (and healthy too!)
Here at Skip & Scamper we know all about delivering the best toys and treats for your cat! Check out our amazing Skip and Scamper boxes that are guaranteed for your cat to love.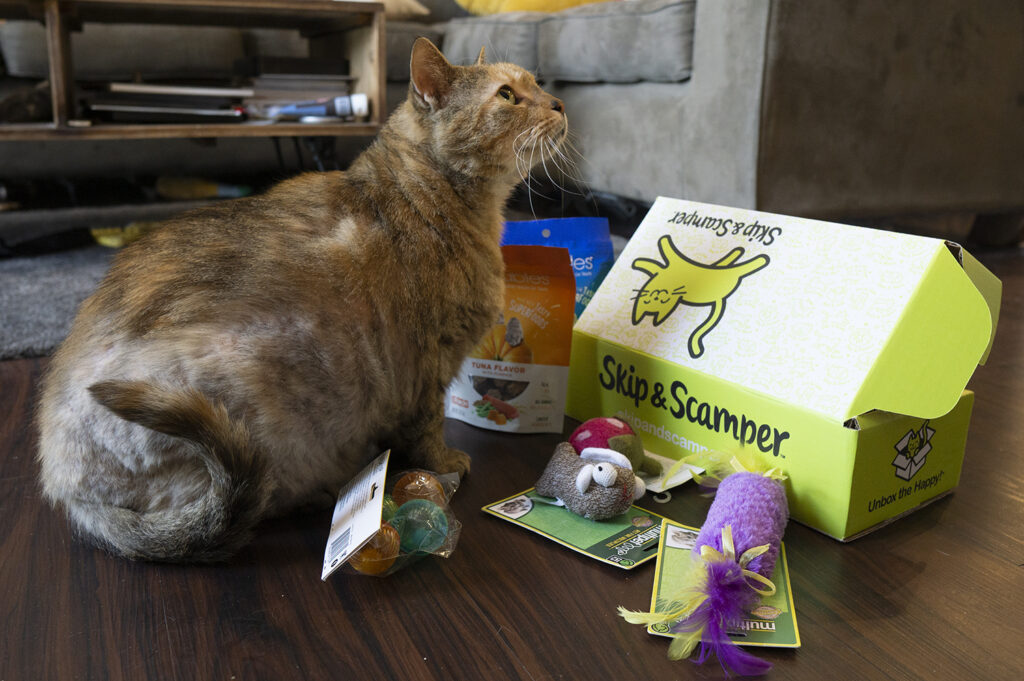 4- Safety
Many people do not believe in collars for cats. While there are legitimate reasons for not wanting a collar on your cat, such as getting stuck in trees or they happen to be an indoor cat, cat safety is paramount if there is any chance of them getting lost.
To identify a missing cat successfully is simple of they have a microchip, which is placed under the skin and holds all of the cat and owner details, so people can return the cat swiftly once they have been scanned.
Microchipping is relatively affordable and is one of the best ways to ensure people can return your cat to you if the worst happens and they were to stray.
5- Cat Company
Cats are incredibly sociable animals, and there is nothing they love more than company and fuss.
It is worth considering socializing your cat with another cat, making sure they have a companion and someone to play with when there are no humans around to take control of their routine.
Obviously, there are going to be some instances where one cat's personality does not work well with others; just like humans having clashing personalities, cats will too!
But, it is always worth a play-date trial with another cat first to make sure they get along for the longer term!
What humans see as rough behavior between cats is sometimes them behaving in a natural way together, so conducting some research on cat interactions and instinctive behavior can always be helpful!

6- Cats In Training!
Some cats can be incredibly naughty in their personalities and behavior!
While this may be a cute addition to the way they are, some behaviors can be destructive and nasty, and these are the things we can try and train them to do things differently.
By using small treats and even some tips from animal trainers, you may be successful in teaching your can to do or not to do certain things, such as sit on the floor instead of the table, for instance.
You can make your cat much happier as they will start to learn the boundaries of the things they can and cannot do so they know where they stand…or sit!
7– Get Them Used To Their Transport
Anyone who has ever had a cat will probably tell you that their least favorite place is in a cat carrier. If this is the case, they will kick up such a fuss to the point where some owners will cancel their beloved pet appointments simply because of the cat carrier issue.
You can overcome this by incorporating the cat carrier into the daily routine, so the cat can familiarise themselves with it being "Normal" instead of only being brought out when they are going somewhere they possibly don't want to go!
Make the cat carrier a normal part of daily life for the cat, pop their favorite prey toys in there for them to investigate, and maybe a blanket too so they can scent the fabric, which will then signal that it belongs to them.
This is likely to make your cat much happier around the cat carrier when they do have to go in it for transport.
8- Cat Scratchers!
Your cat will be in their element when they have something to stretch up and scratch at!
Not only does scratching keep the cat's claws in check, but the stretching element is also incredibly good for their joint health and mobility.
If you have an indoor cat, make sure you have a scratching post or something similar so the cat can emulate the motion of scratching and stretching. If they are permitted outdoors, you will likely find them performing the cat scratch routing at the base of a tree or something similar!
Scratching and stretching make cats incredibly happy!
9- Vet Visits Are Crucial
To have the happiest cat you can possibly have, you must regularly take them for routine checkups at their veterinary surgery.
Vets are animal doctors and are experts in animal and cat health. And while we rely on human doctors for treatments and providing preventative measures, cats will need to be given the same grace from an expert in their field.
Making sure your can is given a clean bill of health is crucial for a cat's happiness, so make sure they attend regular appointments and stay happy.
There are so many advantages to having a happy cat, from having them be able to live their best life, to being the perfect feline companion for you.
Healthy cats are always going to be the happiest cats and making sure you do everything to prevent them from getting anything that can put their health in danger is always the best way forward.
Playing with them and enforcing their instinctive behavior patterns will also ensure you have the happiest cat on the block! Interaction is key for our sociable feline friends so make sure they get plenty of it throughout their healthy and happy lives.